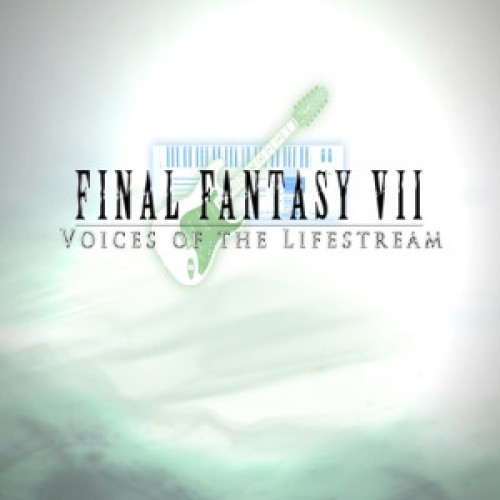 Wow, this is a treat. My favorite track from the original Final Fantasy VII Soundtrack, "Main Theme of Final Fantasy VII," isn't my favorite track on Voices of the Lifestream. Voices of the Lifestream is a four CD set of remixed Final Fantasy VII music, and offered as 16 bit 44.1kHz tracks. Though I fear the audio mastering misses the mark, Voices of the Lifestream is a nice tribute to one of the greatest games of all time.
I had a terrific friend in college who gave me as good an education on audio quality and audio mastering as a professor could. CD quality is really good, especially considering MP3's that followed were much lower quality. Most notable about CD quality is the "sample rate," 44.1 kilohertz, or 44,100 samples every second. While console video games strive for 60 frames per second video, you are getting more than 44 thousand samples of audio every second with CD audio. Many audiophiles see 44.1 kHz as a baseline, and go to 48 kHz, 88 kHz, and 96 kHz from there. Voices of the Lifestream and seemingly all OC Remix albums are available at CD quality in FLAC format.
Four CD's is a lot, so I will do my best to summarize. Jillian Aversa greets us on the opening track as a vocalist, and appears in later tracks. She is a gifted singer, and adds a human element to a mostly electronic score. Nobou Uematsu said he wants to start a prog rock band, and later did with the Black Mages. Prog rock is on display with "Full Frontal Assualt" by norg and SnappleMan, and "Adrenalene Kyck", by Big Giant Circles, zircon, and Liontamer. A complaint about "Adrenalene Kyck" is you can tell they aren't using a real drumset. Again, this is a mostly electronic album. "motor crazycycle" by tetnik is pure dubstep, a fairly newer genre which I love seeing represented.
Going deeper into discs 2, 3 and 4, there are still treasures. Djpretzel founded OC Remix, and "Short Skirts" on disc two is mellow and pleasant. Hemophilliac's "Embraced Empathy" actually emulates djpretzel's style to great effect. "Suco de Melancia" adds a Latin Jazz flare to the album.
The best compliment I have for Voices of the Lifestream is you get a lot of variety as far as genres – electronic, dubstep, prog-rock, classical, and beyond. Unforunately, you can cynically say someone is sitting with Reason open sliding notes into the correct slots. Still, the artists display genuine talent and musical know-how. The mastering could use some work, though I found the mastering better than the Final Fantasy IX album on OC Remix. I am most thrilled that there is a CD quality offering. Overall, I recommend the album.
Check out Voices of the Lifestream here: https://ocremix.org/album/1/final-fantasy-vii-voices-of-the-lifestream